I've accumulated a lot of musical equipment over the years and would like to thin the inventory, and give some deals to up and coming musicians and artists who may not be able to afford new equipment. All pieces are in good to very good condition, most with manuals/cases/original boxes. Several items have never been used, and are marked as such. I have scoured the internet to find the lowest prices (included shipping if necessary) offered on these items (where available or of comparable quality), and have priced my items lower in almost all cases. You can submit offers through email @ "Contact Me". I hope I have something useful to you!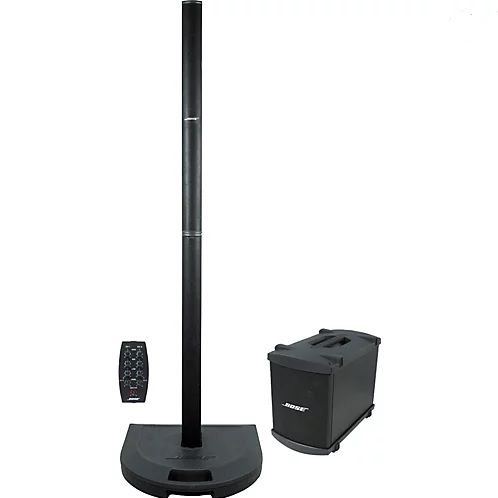 Bose L1 Model 1
Bose Quality at a Fraction of the Price
The Bose L1 Model I System Single Bass Package delivers the audio fidelity expected from Bose in a sleek, lightweight and portable unit that's ideally suited for musicians, mobile DJs, performances, and other sound reinforcement applications. The L1 Model I Single Bass Package features a 4-channel mixer amplifier that also serves as the speaker's base. The mixer features two mic/line input channels (1 and 2) that accept XLR and ¼" TRS connections. Line inputs are featured on channels 3 and 4.
The ultra-low noise preamps provide high signal to noise ratio, and Bose's Proprietary ToneMatch presets on channels 1 and 2 optimize the L1 system to match the intended natural sound of specific instruments and microphones. The speaker features 24 small drivers, carefully positioned to ensure balanced audio signal at the direct and off-axis (sides) of the system. Setting up the L1 Model I is quick and easy; simply place the speaker extensions into the amplifier base, and slide the speaker on top of the extensions. Two extensions are included, and allow easy height adjustment.
Recommended for mid-range instruments and voices
Features Spatial Dispersion loudspeaker technology, available only from Bose
Reduces Four inputs-two with ToneMatch presets
One B1 bass module included
Features
Four-Channel Mixer
Provides two mic/line input channels (1 and 2) that accept XLR and ¼" TRS connections; they feature ultra-low noise preamps, two-stage clip lights, trim controls and XLR line-out channels. Secondary input channels (3 and 4) accept ¼" unbalanced line-level sources.
Proprietary ToneMatch Presets
ToneMatch presets on channels 1 and 2 optimize L1 system to match intended natural sound of specific instruments and microphones.
Remote
Tone Controls
Provide -12 dB cut to +12 dB boost of high, mid and low frequencies on channels 1 and 2.
Level Controls and Signal/Overload LEDs
Green/red signal status to help you set proper gain levels.
Master Level
Adjusts volume of all four input channels simultaneously.
Used, but excellent condition. Includes all connecting cords and cases. Sell for $500.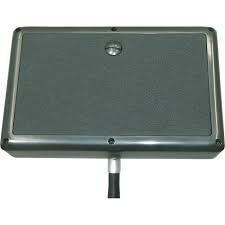 Galaxy Hot Spot
Passive Monitor
Galaxy has discountinued these. It can mount on a mic stand (adaptor included) or rest on a flat surface. Has volume control only. This has been used and is in fair condition mostly because of the aged front mesh. Sell for $50.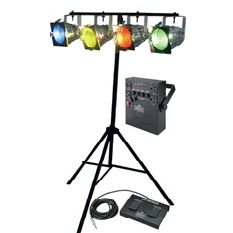 Chauvet Par 38BLS Stage Light System
Sound activated with 16 patterns
The PAR-38 system comes complete with 4 Par 38 black cans, 4 150w bulbs, 1 lightweight stand, (1) 4 channel multi-function controller, 1 foot switch, and 4 colored gels and all cables for hookup. A great 'starter' stage-lighting system. Only used several times so in very good condition. Sell for $75.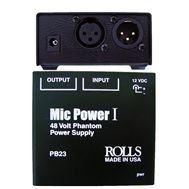 Rolls PB23 Phantom Power Adapter
Some mixers and recorders don't supply +48V phantom power. Not to worry: add the Rolls PB23, and you'll have the power to use phantom-powered microphones. New, never used. Retails for $50. Sell for $25.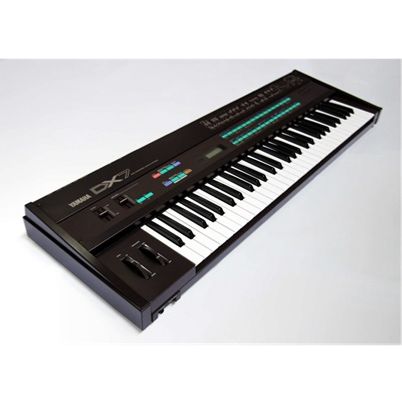 Yamaha DX-7
A Classic Keyboard
Its preset sounds became staples of 1980's pop music. Its electric piano sound was particularly widely used, especially in power ballads. It was the first synthesizer to sell more than 200,000 units. Included with the purchase are 1 data cartridge, 2 voice rom cartridges, wind instrument controller, and Gator Rigid EPS Foam Lightweight Case w/ Wheels for 76 Note Keyboards (GK-76) that retails new for $350. The case is road-used, and a little beat up, but only cosmetically. The DX-7 was gigged for 2 years, but protected so cosmetically and mechanically in good condition. No operation flaws. Will sell all for $600. Keyboard only for $550.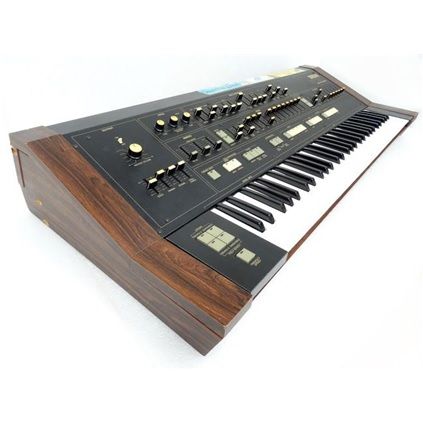 Yamaha SK-30
Vintage Rare Analog Synthesizer
Yamaha's SK-30 is a combo-keyboard with synthesizer, organ, brass and string sections. 

The ORGAN SECTION: It offers a full range of stop levers from 1' to 16', percussion levers with adjustable decay, and controls for overall sustain, brilliance and decay. This gives quite a lot to work with in the way of synthesis. The organ's sound is FM based. You can add a Vibrato and a Tremolo to it. It also has a Leslie-speaker output in back.

The SK30 also features a SOLO SYNTHESIZER SECTION which is a single VCO driven mono-synth. It has basic pitch, waveform, filter, volume, envelope generator and portamento functions. The keyboard's after-touch can control the vibrato, tremolo, and brilliance effects. You can effectively play leads in the solo section while simultaneously playing chords in the string, organ or poly-synth sections. Some cosmetic imperfections on the sides (which are wood!) and a few signs of wear, but mechanically perfect. Used, but in good condition nonetheless. Click on the "MORE INFO" button to read about all of the capabilities of this beast. I found one for sale for $2000 from Japan. I will sell for $1300.
Alesis QS6.1 Keyboard
Includes 2 Expansion Cards
The QS6.1 is a 64 Voice Expandable Synthesizer and is a much more improved version of the QS6QuadraSynth. With double the sound memory, the QS6.1 has 16MB of digital ROM samples, double the expansion capabilities, double the real-time control sliders, and a much improved and larger LCD display screen. The QS6.1 has a vast set of sounds containing a library of 640 programs and 500 multitimbral mixes. Really amazing pianos, orchestral sounds as well as vintage synth sounds, strings, brass, winds, guitars, drums, percussion loops and groove patterns can all be found here.
The QS6.1 features 64 multitimbral parts over 16 MIDI channels. That's a lot. And since it's 64 voices polyphonic, you can arrange some pretty complex and complete music, from full orchestras to trance dance tracks, beats and sfx heaven! The keyboard can be split into 16-zones! Control the volume, panning, transposition, effects level and more of each channel independently. Four on-board edit/control sliders are assignable to most modulation parameters. Onboard multi-effects based on the QuadraVerb 2 include reverb, chorus, distortion, EQ, delay, rotary speaker simulation and more. These are on four independent busses so it's like having four FX units!
The 8mb expansion cards are "EuroDance" and "Pop Rock". Includes software and sustain pedal. Used, but good condition. Will sell for $200.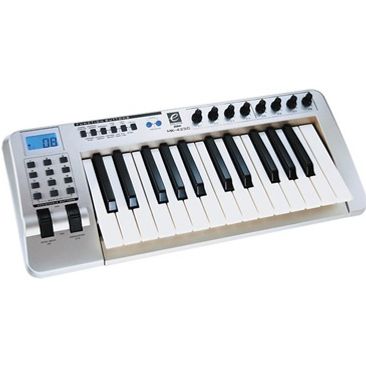 Evolution MK 425-C
Discontinued - Studio use only
The Evolution MK-425C MIDI Controller is armed with 8 assignable rotary knobs, 10 assignable buttons, and 25 full-size touch-sensitive keys, giving the extreme hands-on control needed for all your music software and hardware. Like-new condition. Sell for $150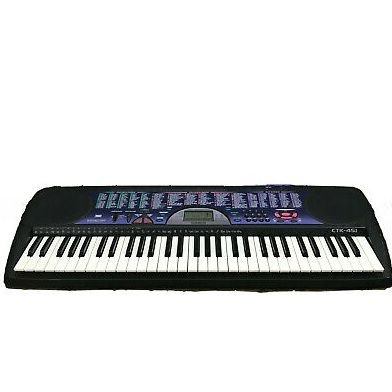 Casio CTK 451
61 Key Portable Digital Keyboard with Midi
PERFECT KEYBOARD FOR BEGINNER AND HAS EVERYTHING AN ADVANCED PLAYER WOULD WANT!!
Comes with AC/DC ADAPTOR, OWNERS MANUAL, and BATTERIES.
Musical Information System(LCD
Shows tone, rhythm, song names, metronome, tempo, beat, note played, chord, Song Bank fingerings and more.
Chord Book function
Input the name of the chord and the display shows the keys you should press, the fingers you should use, and the notes that make up the chord.
Song Bank Controller
CD player-like controls (play/pause, stop, rewind, fast forward) for instant familiarity.
Right and Left Buttons
Allows individual practice of left-hand and right-hand parts along with playback of built-in songs. 
100 tones
12-note polyphony (max.)
5-channel multi-timbre MIDI
GM simulated mode (GM tone map)
Auto-accompaniments (controllers : synchro/fill-in, start/stop)
100 rhythms
In original box with all accesories. Very lightly used in like-new condition. Sell for $75.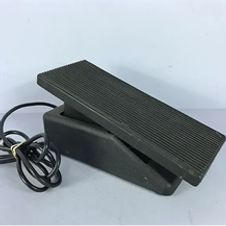 Keyboard Volume Pedal
Good Condition
These sell for $80+ used. I have 2 of these @ $20 each.